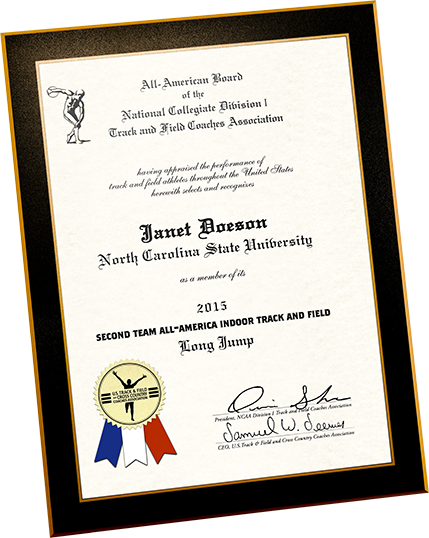 Honor Your Champions
ChampionsHQ is your official headquarters for all U.S. Track & Field and Cross Country awards and recognition products. We specialize in laminated wood plaques that memorialize the achievements of the many successful athletes participating in Track & Field and Cross Country today. With over forty years of experience we've established a loyal client base due to our superior reputation for high quality and customer service. Let us show you how easy it is to recognize your athletes today!
Laminated Certificate Plaques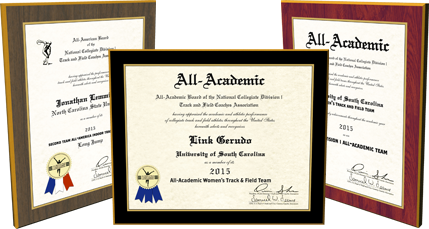 Our real wood plaques are produced with a scratch resistant satin finish, a lifetime guarantee, and are shipped ready to hang. Each plaque is custom made and comes in a variety of border and trim colors. The plaque you order today will retain its original beauty for life!
Background Colors
Black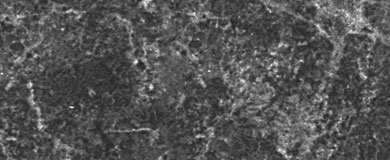 Black Marble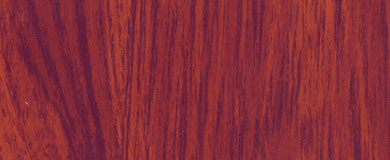 Mahogany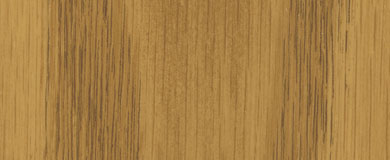 Oak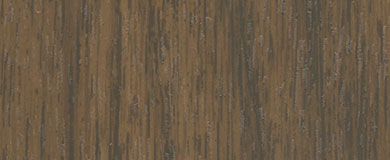 Walnut
Trim Colors

Gold

Black

Silver
For only $55 plus shipping and handling per plaque, you can award your champion athletes with this magnificent plaque — perfect for commemorating any outstanding achievement!
NEW Mini-Plaques - Only $35!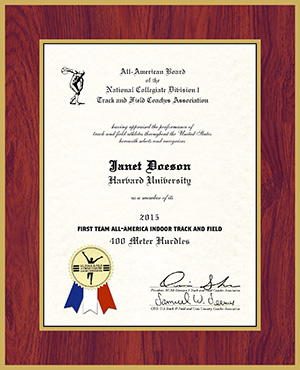 Our new mini-plaques are a great way to show off your awards in a more compact form! Perfect for hanging on a wall or placing in a trophy case, these smaller ~7×9" plaques have the same color and trim options as our full-size award plaques. For only $35 plus shipping & handling, you can order yours today!
Ordering
Receive your certificate awards from the USTFCCCA.
Whether it's for the 4×100m relay, or being considered an All-Academic Athlete — your athletes deserve to be recognized.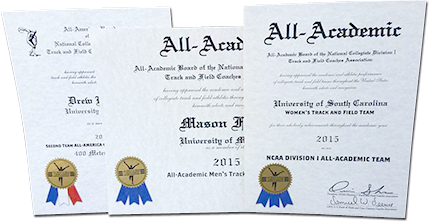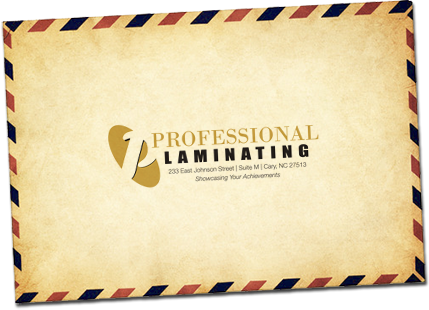 Forward your certificates to us:
Professional Laminating
233 E Johnson St, Suite M, Cary, NC 27513
Receive your new award plaques!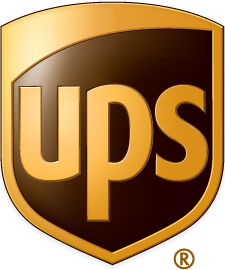 When we receive your certificates, we'll manufacture your plaques according to your specifications. You will receive your finished plaques shortly!